That will be the key message when they host the winner's field day on January 27 – about nine months later than usual because of the Covid pandemic.
The couple's Canlac Holdings business consists of two dairy farms near Dunsandel in the Selwyn District, running a total of 2150 cows.
Known for their willingness to step up and take part in initiatives such as the Forages for Reduced Nitrate Leaching (FRNL) research project, they have exceeded the district's tough Environment Canterbury nitrogen leaching targets while maintaining profitability.
When they were named the winners back in March, BFEA judges commended them for their environmental commitment and for promoting wellbeing within their own team and wider community.
Coltman says they recognise four key parts to their business – the financial, the environmental, the people, and the animals – and says the business would not be stable if any were out of kilter. However, the key message is that a farm needs profitability to be able to spend on those other areas.
Explains Carver: "You can't make changes that are going to help the animals, land and people if you don't have money.
"You might make one call which is really going to help the animals but it could actually make things trickier on the cash books and trickier on the people. What levers do you pull, remembering that you have four things you have to look after?
"You see a lot of businesses go completely green and they go under."
Their recipe for success includes improved and more efficient irrigation, increased effluent area, lower nitrogen use and lower N-content in imported feed, while maintaining production.
Faced with having to reduce leaching by 33% by 2022, they have achieved 50%, says Coltman.
"We've got some headroom there, so that's all good."
They are also well-placed to meet the central Government-imposed limit of 190kg/ha a year of applied nitrogen announced last year.
Having got the basics right, the couple have continued to make improvements – aimed as much at the wellbeing of their staff as improved production.
That includes adding another milking shed, which allows work to start an hour later each day and gives greater flexibility in rostering and reduces the stress on workers.
"Now we can run each of these places on public holidays with just two people so people can have the day off," says Coltman.
Automated cup removers have been added to both sheds.
Coltman says it is all part of their holistic approach to provide a pleasant working environment, investing in both people and equipment to be in the best position to respond to coming pressures or changes in regulations.
The Big Unknown
A big unknown for Tony Coltmore and Dana Carver is expected greenhouse gas (GHG) regulations because it is unclear how those emissions will be assessed, measured or taxed.
Because the farm has high production, using a lot of grass and a lot of feed, its total GHG emissions are higher than average but it is more efficient than average, he says.
"Per kg of milk solids we're better than the average but at this stage we don't know how they're going to measure it and it doesn't sound like it's going to be a total figure."
Carver adds that the science on GHG isn't as clear, and the targets aren't as clear, as for nitrate emissions.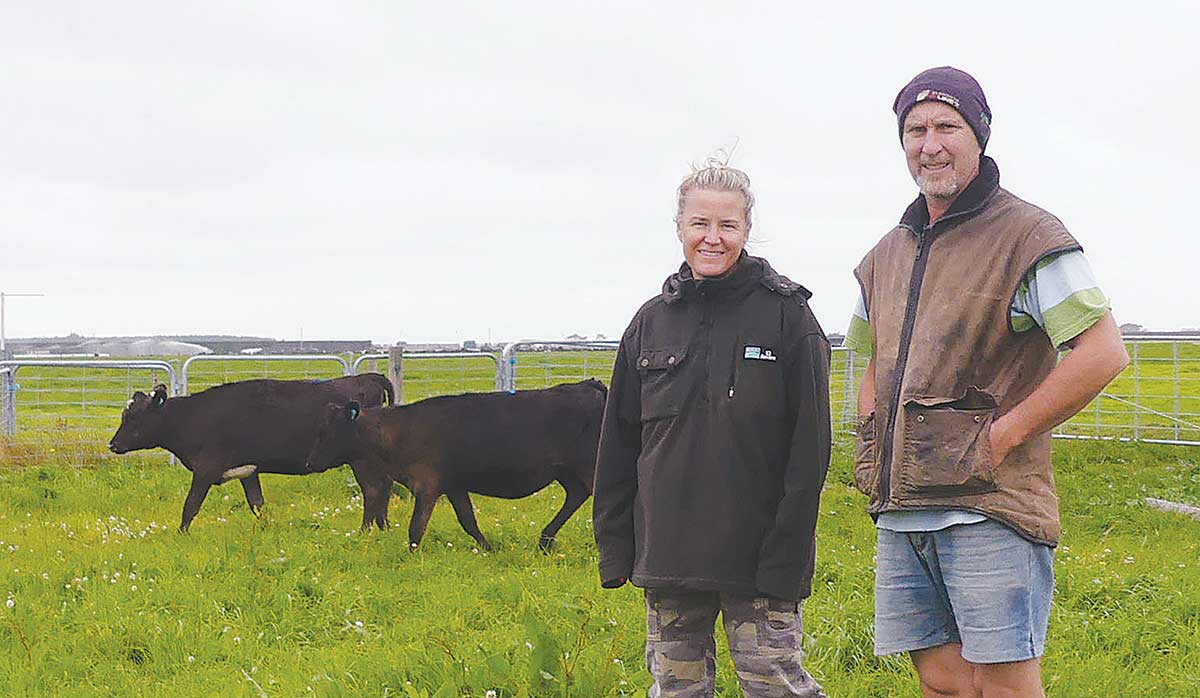 Tony Coltman and Dana Carver say a farm needs to be profitable before being able to spend on animals and sustainability.
They are looking at plantings to both reduce emissions and provide shelter for animals but Carver says they have to be careful not to do anything that could cut profit with no gain.
"There's this huge grey area but the government started saying we expect to see a drop in your methane production in the next five years. How do you start that journey when you don't have the science?"
For Coltman and Carver the key is to stay involved, keep learning and keep improving the business so they have a strong platform to act from when the time comes.
Awards Disruption
The 2020 Ballance Farm Environment Awards will finally conclude in late March after a year of unprecedented disruption caused by the Covid pandemic.
A round of on-farm judging will take place over the next few weeks before the 10 regional winners convene in Wellington for a series of interviews then the announcement of the national winner at an awards dinner on March 25.
The winner will receive the Gordon Stephenson Trophy and be named the National Ambassador for Sustainable Farming and Growing – traditionally funded for an overseas study tour.
James Ryan, the general manager of the New Zealand Farm Environment Trust, says there is a question mark over that, because of Covid.
"They probably won't be going overseas but who knows? That could change."
Ryan says the awards dinner "is really about celebrating some of the great things that that these farmers and growers are involved in."
Normally the national award would have been decided in the middle of last year, following the series of 10 regional awards.
Instead, the Covid lockdown forced the regional competitions online after only two had been held - Canterbury and East Coast.
The delays also forced a decision not to conduct a national competition for 2021.
"We just felt there was too much uncertainty," said Ryan.
However, Waikato is conducting a regional competition this year, having secured independent funding. Judging is currently underway.
Waikato was the one exception "just to complicate things," quipped Ryan.
"They felt they'd built up some great momentum...and because that's where the awards originated more than 25 years ago, they were determined just to carry on as per normal."
Ryan says the awards will be "tweaked" for the future with more emphasis on feedback rather than just the accolade of an award.
"Now we have reflected on where we want to be over the next three to five years, we're looking to put more emphasis on giving participants in the programme quality feedback that they can use to improve the sustainability of their businesses.
"Farmers are dealing with so much at the moment we just want to make sure that we're giving them feedback which builds their confidence up."