The couple run their business Real Milk Timaru from their third-generation dairy farm right on the edge of the city. They sell raw unpasteurised milk and refillable glass bottles from automatic dispensers in their roadside shop, as well as delivering three days a week to regular customers in Timaru, Waimate and Fairlie.
As the Level Four COVID-19 lockdown took effect last week, their Facebook page assured customers that sanitisers and wipes were provided for shop customers using the vending machines, and home deliveries would continue.
They are also expecting an uptick in interest in home deliveries, but are reliant on Facebook and word-of-mouth to get the message out.
Stuart Weir explains that while their raw milk meets all the safety requirements and they believe it is a healthy product, they don't advertise because any formal advertising cannot include explicit health claims, and must include an MPI raw milk health warning word-for-word.
"To me that's that's contradicting what you're trying to do... it's a full food and it's safe because we meet the regulations."
Their 104ha Glenwillow Farm, in the family since 1944, nestles in a valley overlooked by houses on the Southwest edge of Timaru.
"Because we've always been town supply it suited us to to set up the retail milk for the public because of our locality being close to Timaru city," says Stuart.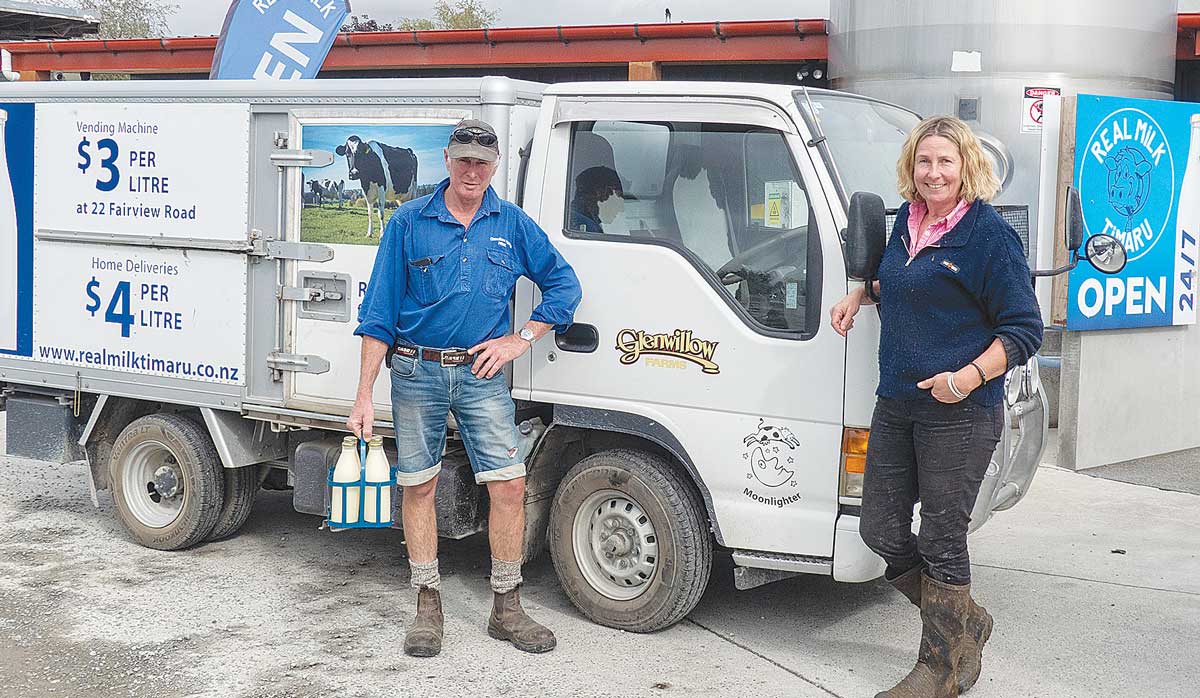 Stuart and Andrea Weir provide three home delivery runs a week to Timaru and surrounding towns, from their Glenwillow Farm on the outskirts of the city.
They milk year-round with both autumn and spring calving. They run about 270 cows all up including 15 in the raw milk herd, which is milked once a day. The main herd is milked twice a day, providing winter supply to Fonterra.
The raw milk is tested weekly for pathogens, in line with MPI regulations.
"We have cows in the main herd that are tested for the real milk herd as well, so when I need to swap some cows around or dry some cows off from the shop herd, I bring some of the girls from the main herd into that mob," says Andrea.
"So it's a rotational system and it's year round, of course. We supply the shop 24/7."
Andrea says they choose mid-range cows, producing about 18l a day, for the raw milk herd because big producers cannot go on once a day.
"So the big girls have to stay in the main herd and get milked twice a day and the mid-range girls that have got a low cell count and that nice sort of quantity of milk come into this herd.
"They are generally rolled over from one year to the next so it's the same cows. They know the system well."
The Weirs started producing raw milk six years ago as franchisees of raw milk pioneers, Takaka's Village Milk. They rebranded as Real Milk Timaru in 2016 when MPI regulated the industry and required all raw milk suppliers to register individually, and the franchise system had to stop.
Stuart says it was Village Milk who originally drew up the processes and safety procedures which MPI largely adopted in 2016.
"Village Milk still run a consultancy service, which I strongly recommend people to go to them if they're looking at setting up. There is a lot involved in the testing procedures and getting the quality of the milk right before it goes public."
The 2016 regulations still don't allow supply via third parties such as corner stores, but allows home deliveries. The Weirs bought their delivery truck at that time and now deliver about 150l a week to subscribers, as well as about 150l a day through the shop.
Stuart says they've had a good uptake for the deliveries.
"We've got a lot of families with young kids and/or older people, that can't get out."
Andrea says the raw milk business is great extra income.
"If you're a small farm you have to diversify and think of ways of creating an income."