Once again, students from St Pauls Collegiate School in Hamilton had come up with a good idea; in this case, Jade Luxton and Ben Allen, both Year 13 students and co-founders of Sterineedle.
Designed as a holster for needle-based vaccination guns, the plastic moulded device incorporates an integral reservoir to house a disinfectant solution to sterilise the injection needle each time the gun is replaced in the holster. This helps ensure that vaccinating a large mob is quicker, easier and safer, while removing the risk of disease transfer and the need to constantly change needles.
The clever duo came up with the idea when Ben's grandfather, Linden Hunt, raised the issue of the tedious task of constantly changing needles or finding a way to disinfect them while velveting. Looking at the problem more closely, the team soon found there didn't appear to a solution to sterilising needles in the marketplace. This led to collaboration with Hamilton-based DEA Plastics, who already operated in this field.
Suitable for all types of farming operations and for veterinarians, Sterineedle incorporates an integral clip for belt mounting, but could just as easily be mounted to a race or cattle crush for convenience. For more info, contact This email address is being protected from spambots. You need JavaScript enabled to view it..
Further north at Waipapa in Northland, Precast Products Limited were showcasing their Paddock Podium.
Brought about by numerous conversations with beef and sheep farmers regarding livestock drownings in large concrete water troughs, the device takes the form of a galvanised steel grid that is attached to the trough with four hooks and sits about 200mm below the waterline. This allows free access to water, while also allowing a ball valve to function properly, but always keeps livestock safe.
Justin suggests that the device might be of particular interest to sheep farmers, as lambs typically love to climb to the highest point, so might jump up onto the rim of a water trough, then might fall into an unprotected trough, from which they are unable to escape. Jason also suggests that the device is easily moved from paddock to paddock as the mob is moved for grazing, meaning capital investment is kept to a minimum.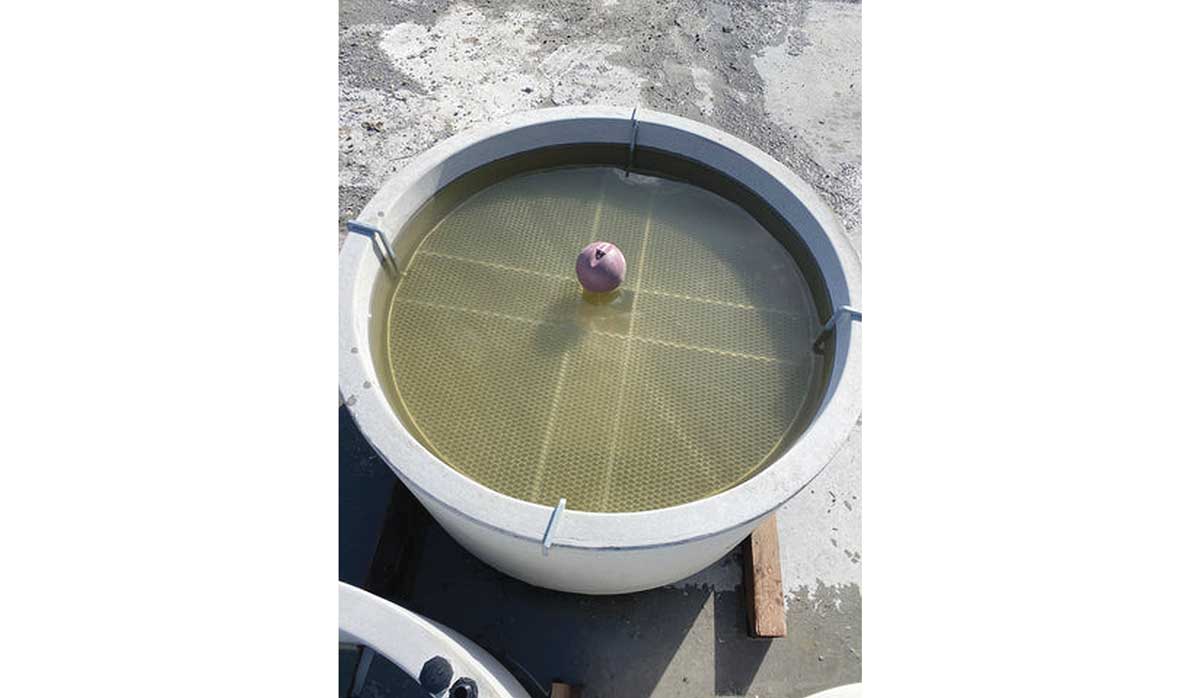 Paddock podium
The device is currently configured to fit the company's own 500 litre troughs at $857+gst, but can also be manufactured to suit other sizes, configurations or brands of trough. Ongoing R&D is currently looking at replacing the metal grids with recycled plastic items.