Quin says new 'Allophos' technology simultaneously reduces phosphate loss and increases soil carbon.
While not as environmentally protective as sustained-release reactive phosphate rock (RPR), the new technology does permit safer use of superphosphate and other soluble P fertilisers such as triple superphosphate (TSP), diammonium phosphate (DAP) and monoammonium phosphate (MAP) in what would otherwise be very environmentally risky situations, he says.
"It is particularly beneficial on low P-retention soils like peats, podzols, and irrigated shallow and recent soils," says Quin.
"The performance of straight RPR can struggle on typically over-limed peat and other low-mineral, low-CEC soils. Excess undissolved lime in the surface soil reduces the rate of RPR dissolution."
Quin's new technology is desinged to at least match the productivity of untreated soluble P at any pH and rainfall, but without the losses in leaching and run-off.
According to Quin - an ex-government chief scientist for soil fertility with the predecessor of AgResearch - a second benefit of the technology is that allophane has long been proven to increase accumulation and biological activity of soil organic matter, sequestering carbon dioxide from the atmosphere in the process.
"I am very excited about its potential," says Quin. "With this technology, there is no exuse for any intensive grazing farmer on low-medium P-retention (aka ASC) soils ti continue to use unmodified soluble P fertiliser."
The basis of the technology is incubating soluble phosphate-based fertiliser - of any type - with damp subsoil from allophanic or other highly P-retentive soils, which is present in huge areas of the North Island, and also in a few locations in the South Island, Quin says.
"Allophane is a very fine clay formed mainly from volcanic ash, but is also found in some high-rainfall areas in the absence of ash.
"Its main characteristic is its extraordinary ability to retain plant-available P in non-water-soluble form, which protects it from runoff and leaching losses. For aerial application, the product will be pre-dried with burnt lime.
"Soils developed from allophane-rich ash deposits have been known for decades to have much lower losses of P than other soils for this reason," he says. "There can be 10 metres or more of allophane-rich clay below the root-zone of pasture and crops which is just waiting to be put to good use."
Quin says there are many locations in the Waikato and BOP, for example, where old river sand under pasture is being removed for use in construction. In these areas, the topsoil is removed and replaced after sand removal, so pasture production is not affected long-term.
"Exactly the same would apply to the excavation of allophanic clay," he says. "Lime use is excessive on many shallow, low CEC soils. What they really need is allophane and less lime."
Quin also says the allophane in soil sequesters carbon dioxide as it accumulates highly productive soil organic matter.
"It will over time markedly reduce the current massive losses of carbon dioxide that are lost from farmed peat soils - anything up to 5,000kg per hectare annually."
Patents and Investors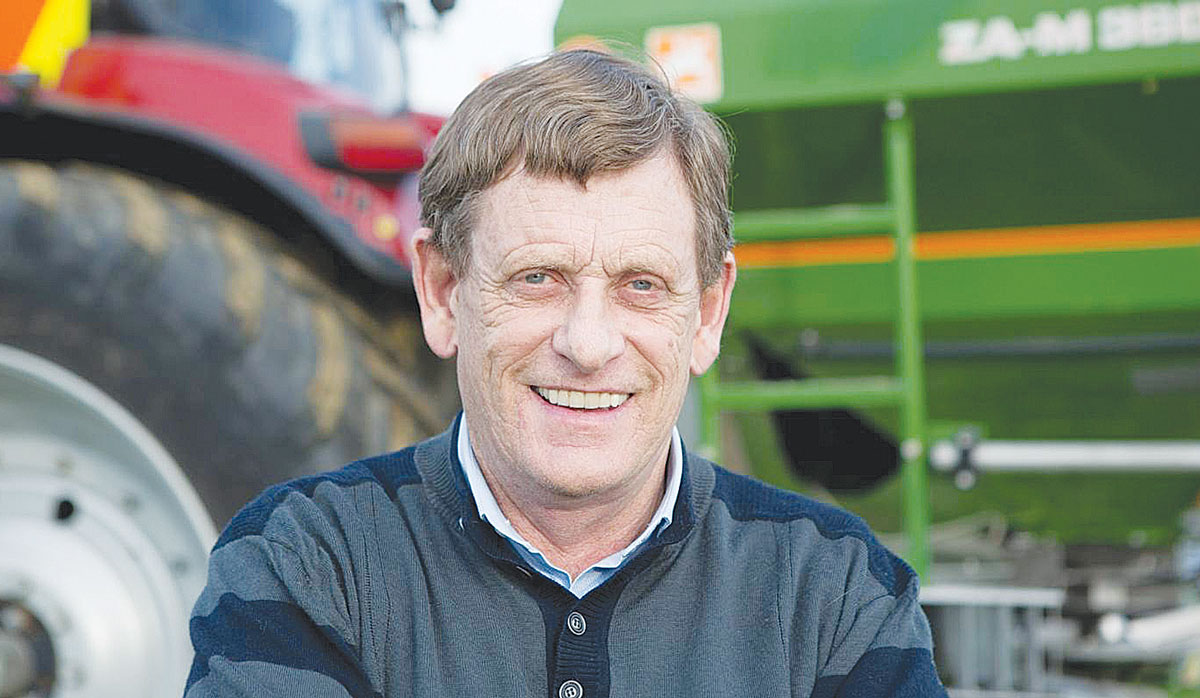 Bert Quin
Bert Quin's company Quin Environmentals, which trades as Quinfert in the fertiliser market, has applied for patents over the technology and is looking for investors.
Ratios of allophanic subsoil to fertiliser are being investigated, and will likely range from 1 to 1 up to 5:1, depending on the soil's ASC, summer drought issues and the type of soluble fertiliser used.
Quin says that while the inclusion of allophane will obviously increase spreading costs, the benefits of the reduction in maintenance lime requirements over time, greatly improved water quality and drought resistance will outweigh this.
"In three year's time, I think people will be wondering why nobody had thought of it before. I ask myself why I hadn't. My ideas usually come to me around 2am, and then I can't sleep."
The products, which will include potash, sulphur and other nutrients, will be marketed under the Quinfert Allophos name.
The first blend will be available this spring, initially in the Waikato, from the McPherson's depot near Te Poi and the Quinfert bagged fertiliser store in Waharoa.
Eventually, Quin says, the soil organic carbon sequestering benefits of allophane, both in terms of soil productivity and carbon credits, will see the Allophos technology being used throughout NZ.
This is not the first environmentally and financially beneficial fertiliser development by Quin.
He developed and brought to market the urease inhibitor-coated granular urea product SustaIN in 2001.