Tractors and horses paraded to their respective plots on a cold foggy day and close to 50 plough men and women competed in four classes: conventional (silver plough), reversible, vintage and horse drawn. And a new class -- 'contemporary' -- was offered for people learning to plough.
The event was held on Wilkinson's farm and attracted good crowds of spectators both days. As well as the ploughing there were demonstrations of old and new farm equipment, all attracting much interest.
Colin Millar, New Zealand's representative on the international ploughing body, says the competition paddocks were excellent and he praised the Wilkinson family and local organisers for this.
"The ground was very well prepared and in good condition," Millar told Rural News. "This makes it more uniform which we try for so that all competitors are ploughing similar plots.
"Sometimes the paddocks are lot smaller and they have different soil types or condition in different paddocks, whereas here they were all the same which was brilliant."
Local organiser John Davison and his team from the Rakaia Ploughing Match Association spent three years planning the staging of the Chertsey event. They asked Kate Wilkinson (a former National Party minister), whose family own the farm, if she would agree to holding the event there.
"She said 'yes' and we have been fortunate to have so much land available on a wonderful site. I have ploughed all over NZ and I have watched friends plough all over the world and it doesn't plough any better than at Rakaia."
Davison says his team met regularly right up to the start of the competition but once the big event started the NZ Ploughing Association took over. His team was busy fixing broken generators, tractors, etc.
Getting new members is a constant challenge for the ploughing association. It responded by introducing a new class – contemporary.
NZPA president Willy Willets says this idea has proved a winner with four young people competing. Unlike the other classes, coaches were available on the day to help the new plough people improve their skills.
"This event has been a fantastic success. Many of the new farmers have produced very straight ploughing furrows, which can be very hard," he explained.
"Straightness is very hard for people to learn and to a degree you either have it or you don't. Two or three of them have very good straightness for beginners. Talking to them afterwards I found them are keen and ambitious which is good going into the future."
To Russia, with love
Next year the National Ploughing Championships will be held at Takapau, Central Hawkes Bay.
Willy Willetts says the site is a good one and organisers from there were at Chertsey to see how this event was run. He feels very positive about next year.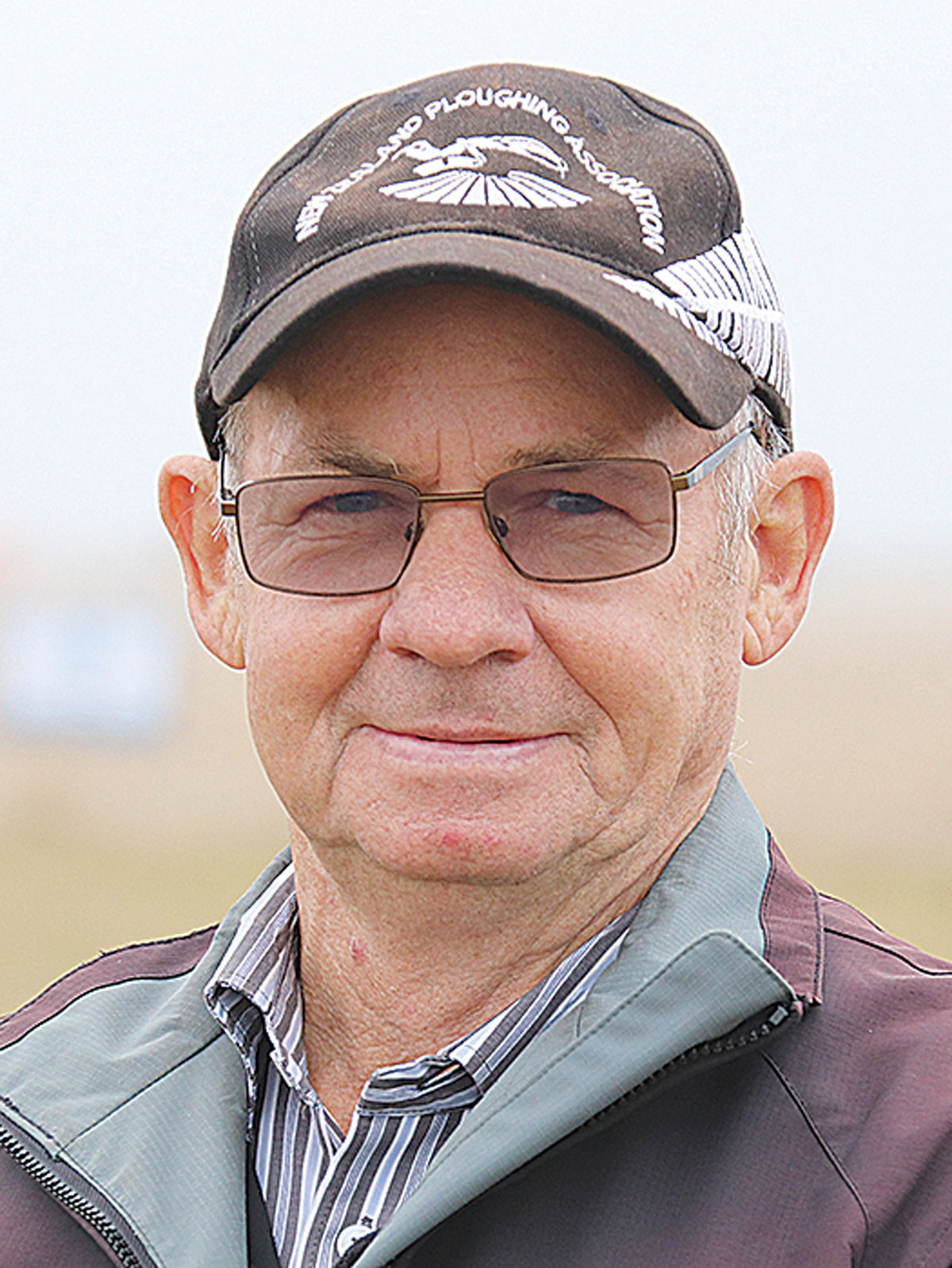 But not feeling so positive is Colin Millar (pictued left), chairman of the World Ploughing Organisation. Next year the world championships are scheduled to take place in Russia at a site he says is a 3.5 hour train ride from Moscow.
He's due to go there at the end of June to look at the site and get a contract for the event signed by the Russians.
"I am not looking forward to going but I know that when I come home I will have enjoyed it," Millar told Rural News.
"I am meeting the head steward from Denmark and I'm going as world chairman to assess the site, which is a huge responsibility. If there are issues we will have to try to convince them that they need to fix them because it's too late to organise another country now."
A happy contemporary
One competitor in the contemporary class was Jess Cunliffe from Ashburton.
A fourth generation farmer and recent Lincoln University graduate, she's now working on a large arable farm in the district. Her parents have an arable and horticulture property where they grow asparagus, pumpkins and courgettes.
Cunliffe normally drives large machinery and noted that the Ford tractor she was driving in the ploughing competition was about 200hp smaller than what she normally drives.
"I got into this competition because they were advertising that they wanted more young people in it and dad wouldn't teach me to plough.
"So I thought these fellows would and here I am. I practiced at home before this but I have only ploughed in two matches. The soil is a bit fluffy but it's gone alright I think and while I don't have much experience compared with other people I am quietly confident."
Most competitors are male but Cunliffe is unfazed. She says ploughing is about precision, being technically correct and learning to read the furrows and adjust the plough accordingly.
She hopes to spend a couple more years in the contemporary class before entering the main Silver Plough competition.
"Dad raised us as perfectionists and we have to be just right. You are not going to get world ploughing championships on a margin of error," Cunliffe says.
Going to the world champs is on her long term agenda but she says she may do her OE then come back and compete.
Horses steal the show
A feature of the championships is the horse plough contest sponsored by Rural News Group.
Six competitors vied for the attractive trophy – four from the South Island and two from the North Island.
Competing for the first time was John Booth from Ashburton assisted by Jim Earl.
Booth's day job is shift engineer at the local freezing works and he owns 20ha near the town where he and his partner Gay run Clydesdale horses. These pull carts taking brides and grooms to and from weddings, participate at A&P shows and occasionally transport coffins for funerals.
But one day while Booth was cutting chaff using horse power some friends suggested he have a go at the ploughing.
"The next day my mates brought me a plough, I went down to my uncle Bill's place, started ploughing and now I have the bug and have been doing it for the last 18 months."
Booth says his uncle, in his 90s, loves to have him down on his farm with the horses practising his ploughing.
When Booth left school he used to muster sheep on horseback but later moved to big machinery.
But having been stricken with the ploughing bug he hopes to do more matches.
"It's been great, the comradeship between the old folk on the sideline and the horseman. We are all having a good time and that's we are here to do."
Keeping a close eye on the horse ploughing was Ian Robb, the convenor and head steward of that class.
His job is to make sure competitors stick to the rules and assist the judges if necessary on technical issues.
Sharon and John Chenowyth, winners of the horse ploughing contest.