Andy Ellis, a 28-test AB halfback between 2006 and 2015, is one of the principal investors in Gravity. He says the internet provider's key point of difference is the use of a dedicated communications satellite, which was launched in 2019 and came on stream in February 2020.
Using a specialised dish mounted on the roof of a subscriber's property – unlike the small wireless receiver often supplied by other wireless providers, which then relay through repeater sites – the Gravity set-up passes a signal from the internet service provider (ISP), bouncing off the orbiting satellite and direct to your home or business. This allows the service to be offered to offshore locations like Great Barrier, Kawau and Stewart Islands – removing the need for copper wires or phone lines.
"The rugged nature of the New Zealand landscape means that many locations just can't receive a reliable signal from their current providers," Ellis told Rural News.
"We are able to reach just about anywhere in NZ, with speeds that are faster than has ever been possible using previous satellites, but more importantly – at very affordable pricing."
Claiming to be the only, dedicated satellite provider using the latest technology, Ellis suggests that other providers are using much older technology with limited wavelengths and thus have very little room for expansion. He claims that Gravity has built-in capacity for the future that can easily deal with the expected growth, while still offering the fastest speeds available.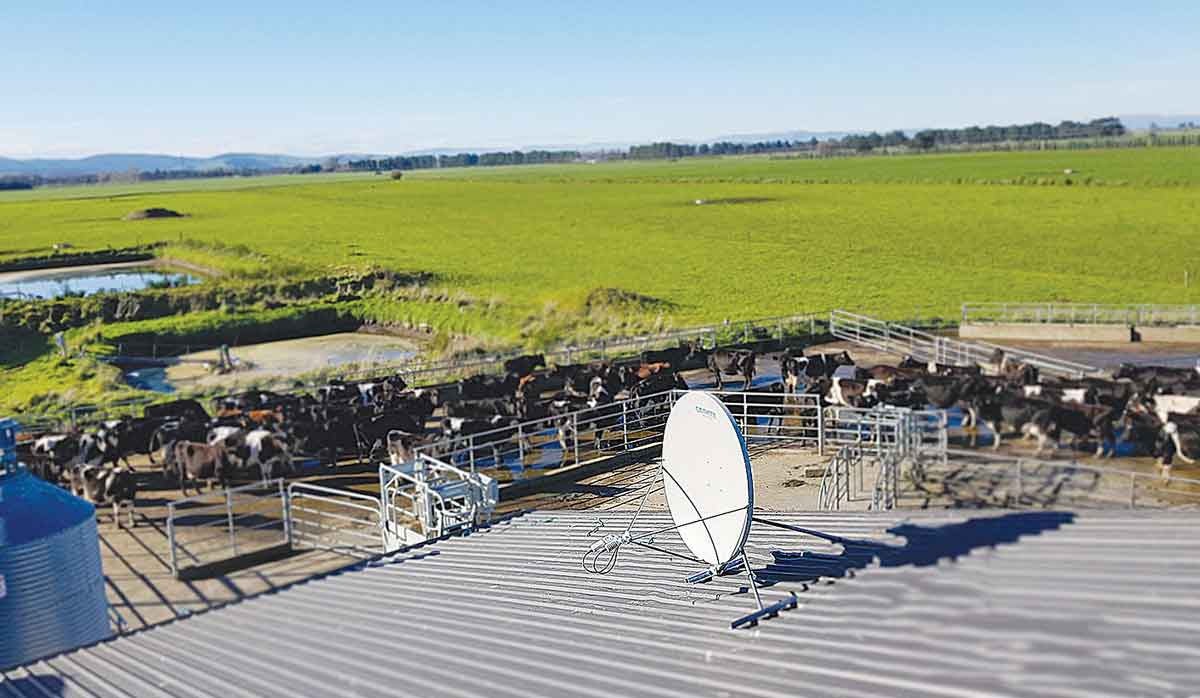 Gravity claims it is able to reach just about anywhere in NZ, with speeds that are faster than has ever been possible using previous satellites.
Currently operating as small team of around 12 people, Ellis is tasked with developing relationships with all areas of the rural sector.
"We are taking numerous enquiries since the lockdown, then going on to connect people from many walks of life – including farmers, landowners, rural maraes, DOC huts and even rural retreats – who still need to be connected to the greater world," he told Rural News.
"Some of the feedback we are receiving is phenomenal. One old fella from Central Otago phoned to tell us after enduring a dial-up connection for nearly two decades, he'd – for the first time – been able to watch a "How-to" video on YouTube that allowed him to get his old tractor working properly – the guy was nearly in tears."
All beefed up
Alongside the move into high technology, Andy Ellis has also invested in a more traditional venture that operates at a much more leisurely pace.
Developed following a relationship that was built up with his butcher, Arato, in Japan, when he was playing for the Kobelco Steelers, the pair set about producing high-end beef in New Zealand.
Waitaha Wagyu, located at Chertsey in Mid Canterbury, works to capitalise on the NZ environment – the best feed and clean water.
Formed around three years ago and with young stock across 10 local farms, the business eventually aims to be finishing between 40 and 50 head each month, with 50% for export to Japan and the remainder going to restaurants and high-end butchers.
"For an individual like me, who can't sit still for too long, it's an exciting but sometimes frustrating operation to be involved in," Ellis told Rural News. "Considering that we've been at it for nearly three years – from animals being conceived to arriving on the plate – it takes a little patience.
"Add to that, until the animal is killed, we don't actually know where it will be in terms of a marbling score – then things get even more interesting."
The marbling score refers to visible fat found between muscle fibre bundles and is assessed within the ribeye muscle. Ellis says producers always look for animals that have a high potential for marbling to breed from.