Gold grade certificates from the last 10 consecutive seasons adorn the office, together with other milk quality accolades.
When it comes to supplying safe and quality milk, no one beats the Bells. Milk from the 114ha Milldale Farm is the highest quality Fonterra gets from its 10,000-strong shareholder base in NZ.
Graham and Glenys say they are proud of their achievements. But they don't it to be number one.
"A lot of work goes into it, but we wouldn't do it any other way," Glenys told Dairy News. "We do it for our cows and the awards just come with it."
Graham says there's no secret to the farm's track record for producing grade-free low cell count milk.
"It's hard work, passion, good management practices and a personal connection with cows," he told Dairy News.
The Bells have been milking cows for most of their life. Married for 45 years they run 350 cows on the family farm and also have a sharemilking job on a neighbouring 170-cow farm with their daughter.
The Bells did the LIC AI run for 30 years. Not only do they breed bulls for genetic companies, Graham says he looks through catalogues to choose the right bulls for mating the herd.
"There is definitely a role for genetics, we don't use bulls with high cell counts," he says. "I spend time looking through catalogues to pick out the ones right for us."
Graham says the calving period is crucial. A lot of work goes into how cows are managed during that period by the Bells and their contract milkers Ashlee Cannons and Anna McNeil.
"We actually put a heap of work in," he says.
"If a cow is prone to mastitis, we bring her in before calving to just check on her. The whole herd, as soon as soon they calve, the sooner they get into the dairy shed, the better."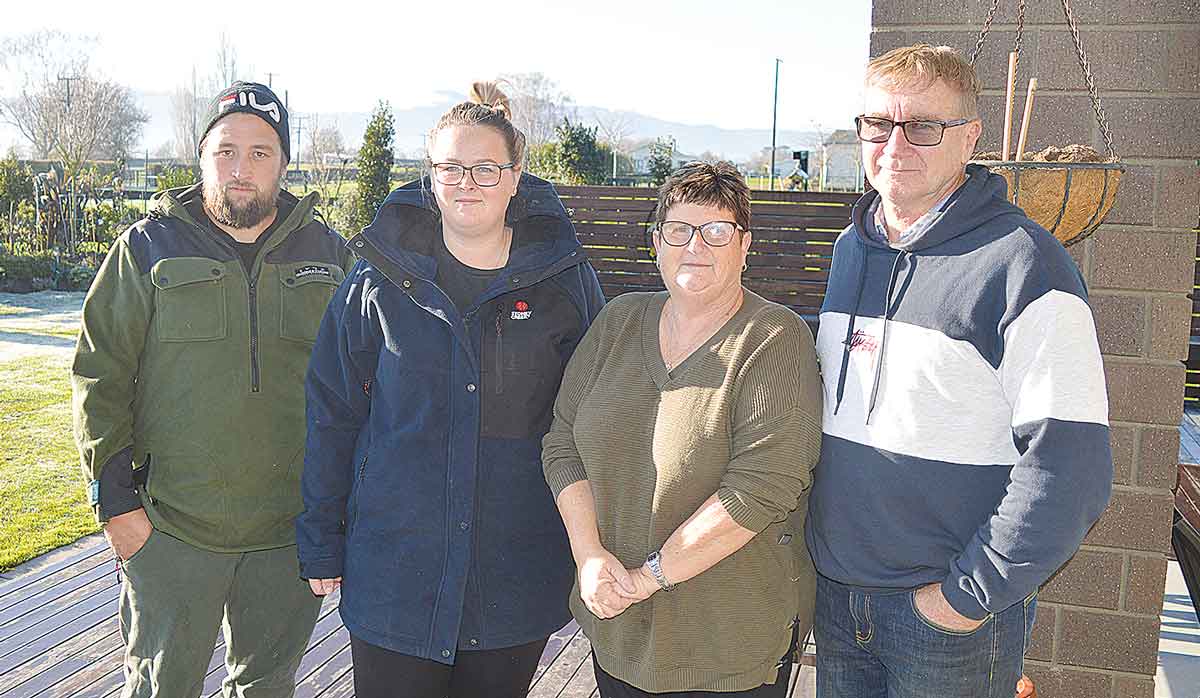 Dream team: from left, contract milkers Ashlee Cannons and Anna McNeil with farmers Glenys and Graham Bell.
The personal touch
Graham Bell says having a "personal touch" when it comes to managing cows is important to us.
He doesn't rely on computer records and knows in his head the medical history of each cow.
"I remember any treatment any cow has throughout its whole life – it stays in my head."
After calving, the cows remain in the colostrum mob for four days, where they are tested for mastitis. Any cow showing a big reaction is treated straight away.
Cows with slight reaction are monitored over the next two milkings and go for treatment if the somatic cell count rises.
Hygiene is a top priority.
Care is taken to avoid cows being calved in mud.
"We do a daily sort from the mobs and the cows are brought closer to cow shed to calve on grass," Graham says.
"This helps to cut down on infection over this period and also helps with avoiding mismothering of calves."
The Bells also adhere to excellent hygiene standards in the cow shed.
"We do teat spraying all year and when you do teat spray, you cover the bottom of the udder. It's about doing the job properly…it's all about attention to detail."
Graham says he hates to have sick cows.
"We put the work in to have a nice, happy and healthy herd."
Contract milker Ashlee Cannons has worked on farms with large herds. He told Dairy News that working for the Bells is "a lot different".
"We had never focused on cows, we just milked them,'" he says. "On this farm we get to know each cow."
Cannons and partner Anna McNeil joined the farm at the beginning of last season.
He says they are learning from the best on how to produce grade-free milk.
"We are very fortunate, it's a great learning curve for us."