LIC's new HoofPrint index provides farmers with insights on bulls born since 1 January 2009 that have the potential to breed dairy herds with a lighter environmental footprint, producing less methane and nitrogen per kgMS.
Each year LIC produces a catalogue showcasing bulls available for use within the upcoming mating season.
This year's Genetics Catalogue has the addition of the new HoofPrint index, enabling farmers to select bulls based on their predicted ability to generate daughters with a lower environmental impact.
"HoofPrint is a 10-point ranking system developed to help farmers achieve their environmental targets and enable them to make more informed decisions about the environmental efficiency of the milk they produce," says LIC chief executive Wayne McNee.
"The ranking system is from 10 to 1, with 10 being the strongest in terms of being the lowest environmental impact per kg product produced. The index enables farmers to rank and compare enteric methane and urinary nitrogen per kilogram of milk solid produced, using genetic data across all dairy breeding bulls."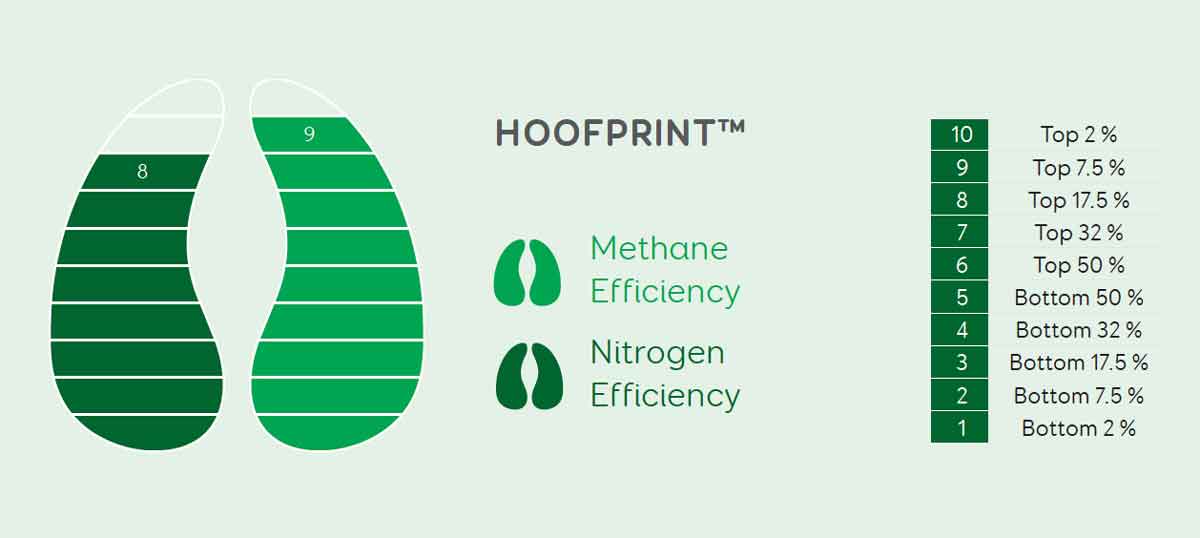 In the example, this bull ranked at 9 for Methane Efficiency and 8 for Nitrogen Efficiency and is ranked respectively in the top 7.5% and 17.5% of bulls born since January 1st 2009.
Enteric methane emissions (generated from cow burps) and urinary nitrogen excretion from cows are two of the major contributors to the environmental impact of dairy production in New Zealand.
LIC says assessing actual emissions and excretion from dairy cows in a pasture-based system can be difficult for farmers, which is why it has used its HoofPrint modelling methodology to quantify the expected emissions and excretion of past, present and future cows.
Copies of LIC's 2020 Genetics Catalogue, with HoofPrint indices relating to LIC's daughter proven bulls and Premier Sires teams, are currently being sent to farmers seeking to select the bulls whose semen they want to use to create the next generation of their dairy herds. The catalogue is also available on www.lic.co.nz