Guy owns a large dairy farming operation near the Horowhenua town of Levin and is about to build a unique dairy shed that incorporates two 50 bail rotary platforms in the same building and is capable of milking 700 cows in just one hour. The design is identical to the one built by former National MP and Taranaki dairy farmer Shane Ardern.
The new shed will replace two other milking sheds on the property, but Guy says they will keep a small 28 bail rotary which his father built in 1975. It will be used for milking mainly the heifers on the property. He says his father had the vision to put in that shed back in the 1970's and says his new shed is about investing for the next generation – his children. His children have been involved in the decision making and are also excited about the future of the industry.
"The new shed will be up-spec'd in terms of technology with an automatic drafting machine and automatic cup removers," Guy told Dairy News.
"We will also recycle the water which will reduce our water requirements. In terms of the technology, I was advised not to install equipment unless I was going to use it all the time and make some significant gains from it," he says.
Guy plans to milk a total of 1500 cows, split into three herds of 500 cows, through the twin rotary shed which will look almost like two gigantic clocks running in synchronisation.
The big efficiency comes when there is a constant flow of cows going through the shed. He says this means that staff will have to ensure that the cows are there waiting to be milked and that there are no delays in getting them to the shed. He says if there is a stoppage in the flow of cows and a machine has to be shut down the efficiencies are lost.
When they are going through the shed, cows from different herds will likely become mixed up. This is where the automatic drafting system kicks in. As the cows leave the shed, a machine reads their ear tags and each animal is drafted back into its own herd again.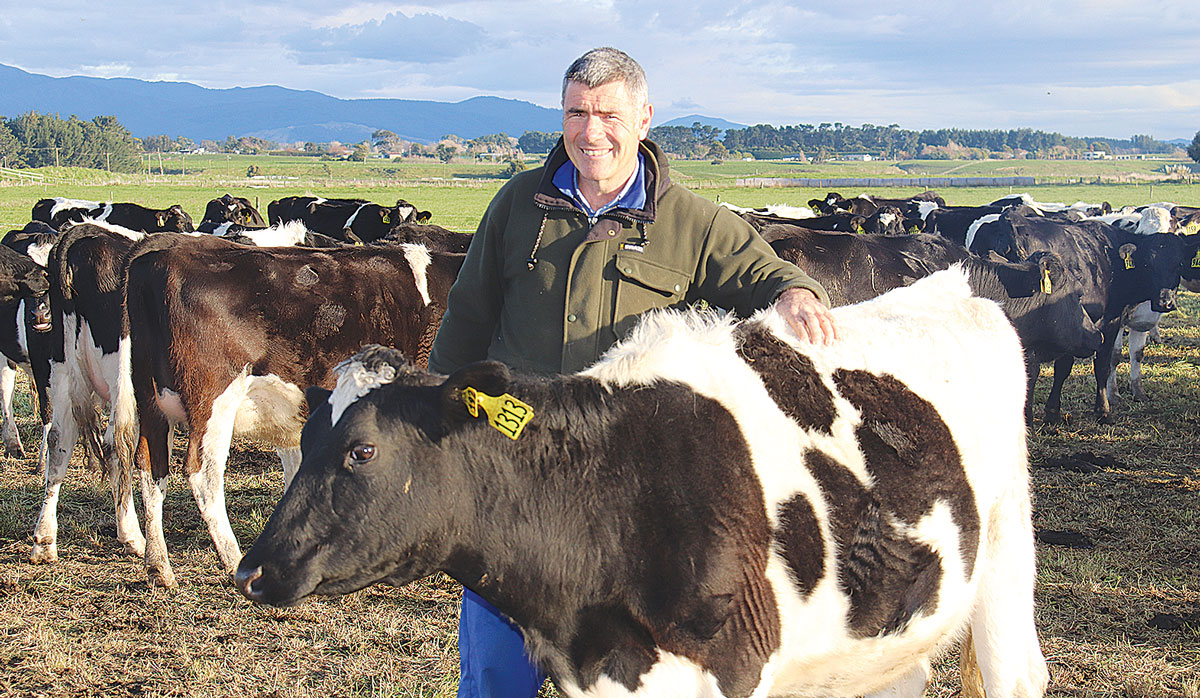 Retiring National MP Nathan Guy says now is a good time to invest in dairying.
"By milking the herds faster, there are immediate production gains because the cows will be back on pasture quicker than they would in a normal situation. It also means that staff will spend less time in the shed putting on cups and will be able to get out and do other work on the farm," he says.
The decision to build a multi-rotary shed system as opposed to building two stand-alone rotary sheds has other advantages – cost being one of them, according to Guy.
"We only need one effluent pond, one power supply and one tanker track to the shed.
Also when we start calving we may only run one rotary and potentially the same at the end of the season," Guy says.
Guy says the centralised system is designed to improve efficiency at milking time and make other productivity gains on farm. At present cows from one side of the farm have to cross over the local road at milking time, but the building of the new shed will remove the need for this. He also has plans to install solar panels.
"They probably won't generate enough power to run a shed of this size, but it will save us some money," he says.
Guy is also taking the opportunity to improve the genetics of his herd and says he's taken advantage of the good beef prices in China to get rid of poor performing cows.
"We've DNA tested all the 1500 cows and the next step is making sure we lift our genetic gain," he says.
Now's good
Nathan Guy says now is a good time to invest in the dairy industry. He says interest rates are low and he hopes to have the new shed paid off in the next ten to fifteen years.
"We could have gone into bull beef or dairy grazing. We have had deer in the past and some of the land around us is used for horticulture, but we are dairy farmers and proud of it and have hence decided to invest in the sector," he says.
Guy is full of praise for the efforts of Fonterra and its cooperative structure and says the organisation is now back on track. He says they performed very well during the Covid-19 crisis by being very agile with their marketing and maintaining their supply chains. He believes there is a lot of positivity in the dairy industry and notes that while there are challenges ahead, overall the outlook is good.
In a matter of weeks, Guy will bid farewell to Parliament after fifteen years in both government and opposition.
"I loved every minute of it and I got my dream job – Minister for Primary Industries. I believe that I made significant contribution to the primary sector," he says.
For a while at least, it will be back to gumboots and overalls and stepping back into the farming business. But while Guy loves the farm, he admits he's also looking for an opportunity to put on the business suit for some of the time and a role in a primary sector organisation.