Farm Medix director Natasha Maguire says offering water that isn't of good integrity – or unsafe for human consumption – is not good for animals either.
Farms have high volume demand for water, necessitating water storage in tanks and, in the case of stock drinking water, troughs. In addition to often drawing water from natural sources, storing water poses a contamination risk. Bird and animal faeces and debris will eventually contaminate that water. Johnes, parasites and salmonella can all be carried in troughs.
Maguire says treating water with chlorine tablets brings it to approved drinking standards.
She says the FIL Farm Chlor Chlorinator Rods and FIL Farm Chlor Trough Tablets treat the water with chlorine to approved drinking water standards.
With FIL Farm Chlor Rods, they can simply be added to a tank of water each day for easy chlorination and reliable low dosing for all water on farm, she adds.
"You are essentially producing food, so things should be clean and water free from E. coli. However, there's more to consider: It makes sense to harvest an economic benefit as well by ensuring that water fed to the cows is clean, preventing many animal health issues.
"Adding chlorine to water was the biggest breakthrough ever in human health to prevent illness," says Maguire. "It makes sense that food producing animals should drink chlorinated water too."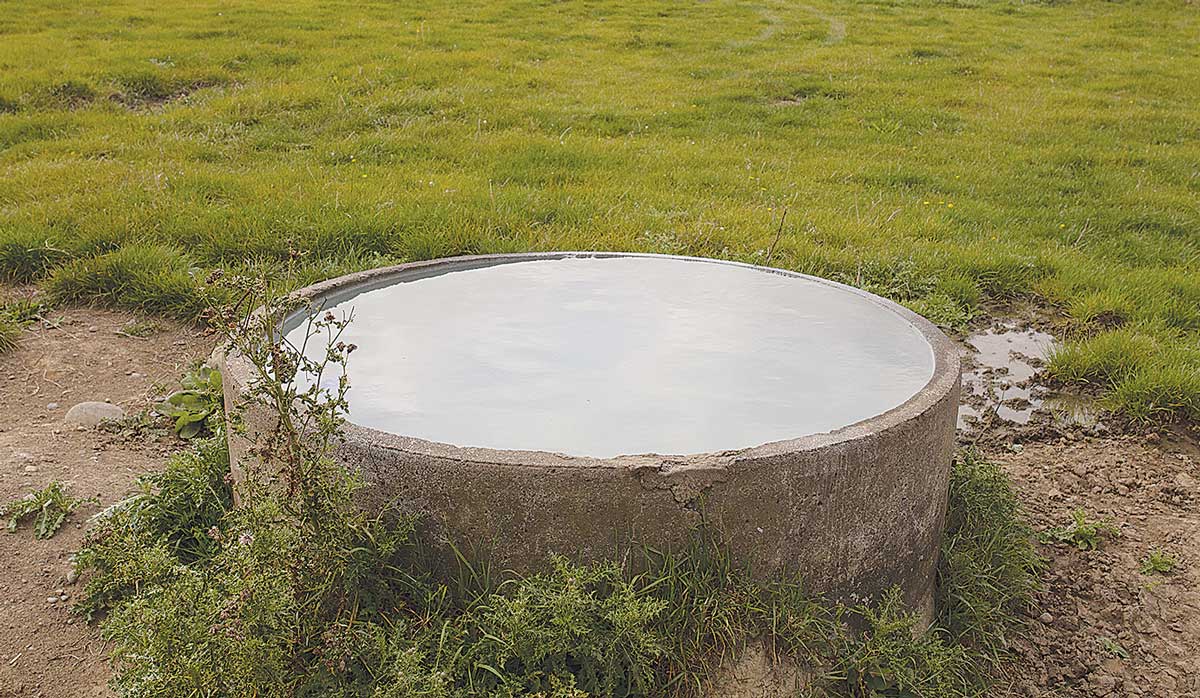 A trough treated with Chlorine, retarding growth, preserving water taste, safety and cleanliness.
Maguire says chlorine offers low residual protection of water.
"You'll notice that wherever rainwater runs with no light, it turns green and goes slimy. Algal blooms are toxic, the same thing happens right through the water system and in troughs as well.
"Chlorine helps to retard slime growth, preserving water taste, safety and cleanliness."
All it takes is six or seven trough tablets in the trough after the cows have been in the paddock to keep it crystal clean for the next round. A bucket of trough tablets will probably last six months, but the water in the troughs will remain as clear as when you cleaned them.
A trough of contaminated water with slime growth.
Maguire says it's also important to avoid irrigation of effluent over troughs by covering them.
"If you haven't done so, getting the kids to clean out the troughs in the school holidays will mean pocket money for them, and a several-fold pay back for you with a super-charged season.
"It's hard to believe something so seemingly trivial is so important.
"And we're not talking the same type of chlorine as a swimming pool chlorinator uses. Farm Chlor doesn't contain any UV/light stabiliser and is suited for human consumption."
One of the cheapest ways for farmers to lift production is to have clean water.
Lactating cows are the biggest land-based mammalian consumer of water; for every litre of milk a cow produces, needing at least three litres of good quality water.
If the water tastes better and isn't contaminated, it's of huge benefit because cows will drink more and be less likely to have animal health issues.