That's how Tony Dowman who's in charge of the Pāmu, or Landcorp, dairy farm complex at Moutua, near Foxton in the Horowhenua, describes running an organic dairy farming operation.
Peter Burke went along to look at one of the farms that Pamu has converted to organics.
All the Pāmu farms at Moutua are close to the winding Manawatu River and large stopbanks are required to protect from major floods.
The soils in the area are highly productive but also wet in winter and spring.
It's fair to say the land is damp and that's why there was a large flax growing operation there in the past. In WWII, a camp for conscientious objectors was built in the area, partly because it was a long way from public transport, there was flax to cut, and it was also considered a somewhat 'uncomfortable location'.
Tony Dowman is in charge of the seven Pāmu farms on which 31 staff are employed. The farm I visited is called Tasman, which runs 305 cows on 155 hectares and is now fully certified organic. Last season it produced 138,000kgMS. Tony Dowman was involved in the conversion of Tasman which started in 2016.
"This farm was amalgamated out of two and a half conventional dairy farms. They were running on a system four to five with a stocking rate of about 3.1 cows per ha, but when we converted to organics we dropped this to 2.1 cows per hectare and moved to a system one, self contained pasture based system. We specifically did that on day one to ensure that we farmed as we intended to farm," he says.
According to Dowman, they did this because they had seen others who converted to organics trying to hold onto cow numbers and milk production, but the pasture didn't always keep up with this approach. He says the 30% reduction in stocking rate saw production fall correspondingly by 30% but on a per cow basis production has stayed equal and he says in the last year they have managed to increase this over previous levels.
Another key factor in the conversion to organics was choosing the right date to start the process. Dowman says the process takes three years for the land and one year for the animals. He says on start date for the animals they cannot use any non-organic supplementary feed that might be available on the farm.
"We have to clean this out at key dates within the three year conversion process, then start again ensuring the feed is of equivalent status to the conversion process.. So the conversion date is really important. We didn't do it on the 1st of June because it's really difficult to be able to fully feed cows through July, August and September. We decided to do it on the 10th of October so that allowed us to get through that spring peak and then to have our pasture in a growing position and we could harvest our own silage to get us through summer," he says.
The soils at Moutua are well developed, highly productive and resilient and there is no need for irrigation.
The risk comes in winter and spring with the rains and Tasman, unlike other Pāmu farms at Moutua doesn't have a feed pad. This says Tony Dowman, requires careful grazing management and maybe having sacrifice paddocks or other management plans to deal with the wet.
Organic farming is about farming within quite prescribed limits. Tony Dowman likens it to living on an island and being completely self-contained. In terms of supplementary feed they grow roughly 15 hectares of maize that's harvested in autumn.
They also grow turnips and have plantain and clover crops and when they convert the paddocks that have been used for maize and turnips back to pastures they use a mixed sward which includes rye grass, cocksfoot, white and red clovers, prairie grass, timothy and plantain.
Key staff
Tony Dowman is originally from Taranaki where his parents owned a berryfruit orchard. But for Tony it was the dairy industry that attracted him the most and he did a course at the Taratahi Agricultural Training Centre in Wairarapa and later a Diploma in Agriculture at Massey University.
He then worked on dairy farms in Taranaki and later oversaw the dairy farming operations at Taratahi before joining Pamu in 2014 and taking charge of the Moutoa dairy farming complex.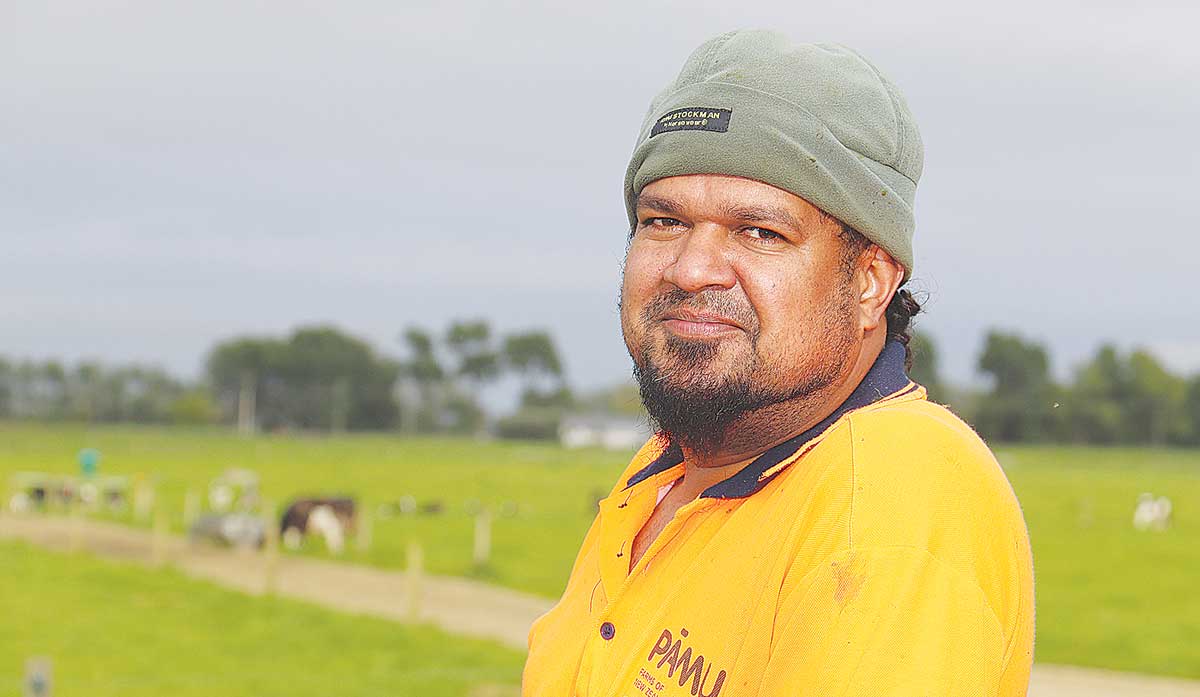 Mahraaz Hussein left a graphic designing career in Fiji to work with cows in New Zealand.
The manager at Tasman has made his own and unusual conversion to dairy farming. Mahraaz Hussein started off life in Fiji as a graphic artist and web designer and then came to NZ. He says one of his friends introduced him to the dairy industry and he began working for Pamu in Canterbury in 2015. Last year he and his wife Suzanna and their two children relocated to Moutua.
Suzanna also works part time on the farm looking after calves and other chores.
"It's been a big change joining the dairy industry but since doing it I haven't looked back. I find it quite a peaceful environment working on a dairy farm and think I am going to continue in dairy," he says.
Somewhat ironically, Mahraaz says he enjoyed the colder climate in Canterbury more that the warmer weather where he is based now.
But he says his wife prefers the warmer weather of the North Island.