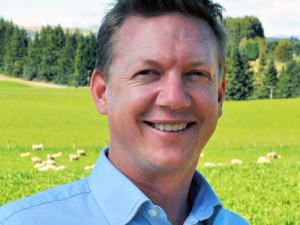 State-owned farming company Landcorp Farming Limited (known as Pāmu) has declared a net profit of $29 million.
The Government has declared a seasonal labour shortage across Hawke's Bay.
The world may be going all-out on electric vehicles, but GCH Aviation, Christchurch, is trialling a large, gas turbine-powered drone…
Herd testing, whether it heralds good or bad news, is ultimately good for a farm's viability and for a farmer's…
Tractor importers and distributors have a healthy 2018 report card from the Tractor and Machinery Association (TAMA).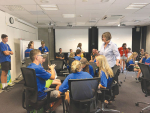 A group of high school students have spent four days on a live-in event at Waikato University to learn more…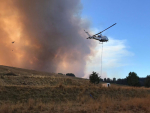 The Ministry for Primary Industries and volunteer groups have come together to protect animal welfare in the Tasman District fires…
Voting has opened for B+LNZ director elections.
The NZ Landcare Trust will have a strong role to play with the increasing national focus on farm environmental issues,…
A medium-scale adverse event has been declared for the Tasman district, unlocking further Government support for farmers and growers.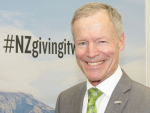 "On a knife-edge," is how NZ's former high commissioner to London, Sir Lockwood Smith, describes the British government's EU exit plans.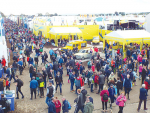 The Irish sure know how to throw a good party, as experienced last month at the National Ploughing Association event at Screggan, County Offaly, Ireland.
Britain should hold a second referendum on Brexit to make sure the British people fully understand what they will be in for when the UK leaves the European Union (EU) in six months.
New Australian Prime Minister Scott Morrison's first trip in the top job was to a drought-stricken farm in Queensland.
Farmers in Northern Europe – especially the UK and Ireland – are facing a crisis as drought forces them to sell stock early while they struggle to adequately feed animals remaining.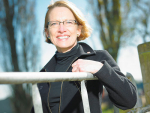 OPINION: New Zealand food and fibre is different from those in other countries, yet not all consumers know this or…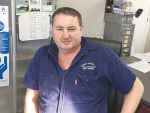 OPINION: Recent proposals by the Government to make it easier for regions to get workers look like a step —…
OPINION: They say when you point a finger at someone in condemnation you have three fingers pointing back at yourself.
OPINION: It's time all honeys are given the same respect that we are trying to give to manuka.
OPINION: The agricultural sector plays a critical role in New Zealand's economic health and the lives of everyday Kiwis.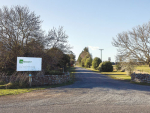 A slice of New Zealand's agricultural history is for sale in the form of AgResearch's Winchmore Research Station, northwest of…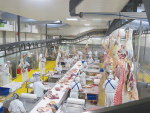 Blockchain and distributed ledger technologies have the potential to help our primary industries capture high-value niches, according to a new…
An agri-leadership course held recently had secondary students 'buzzing' about career opportunities in agriculture — even though many already came…
Rural confidence has fallen for the third consecutive quarter.
The latest in rural communications will again be high on the agenda at the East Coast Farming Expo.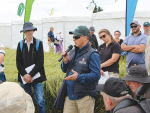 The first step in tackling herbicide resistance in arable farming is admitting you have a problem, says Australian specialist Dr Peter Boutsalis.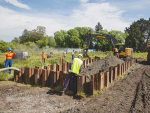 A world-first denitrification wall at Silverstream, North Canterbury designed to reduce high groundwater nitrate levels is working as anticipated.
Two New Zealanders were named as winners in the recent trans-Tasman 2018 Growth Awards run by agriculture multinational Syngenta.
Tired of blanket irrigation's issues, two Massey University engineering graduates decided to create a solution.
Farmers, don't give the rule-makers a reason to regulate, says Beef + Lamb New Zealand's environment team.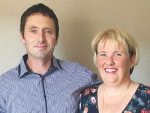 Herd testing, whether it heralds good or bad news, is ultimately good for a farm's viability and for a farmer's…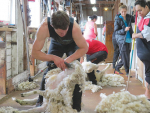 With animal welfare a key aspect of livestock farming, treatments to prevent flystrike and kill lice are crucial in sheep…
A field trial using frozen sexed semen didn't produce the desired results, says LIC.
Ten sheep breeders have formed WormFEC Gold to show farmers that breeding for parasite-resistant genetics will strengthen flocks and save…
Farmers, especially in the South Island, are being reminded that while Mycoplasma bovis has captured headlines, TB is a continuing…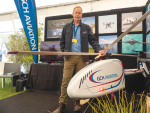 The world may be going all-out on electric vehicles, but GCH Aviation, Christchurch, is trialling a large, gas turbine-powered drone…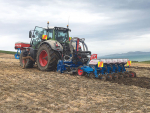 To farm more sustainably and profitably, many farmers and contractors are exploring the advantages offered by strip-tilling.
After 25 years in electrical seed metering, Kverneland claims more knowledge in electric drive systems than any other precision seeding…
A new range of trailed and self-propelled sprayers from German manufacturer Horsch is now available in New Zealand from distributor…
Rotowiper manufacturers a wide range of weed wipers — from 1.8 to 12m in several configurations.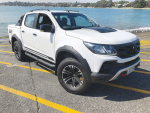 The after-market options for utes are extensive, but there's a big difference between a properly engineered package and a ute…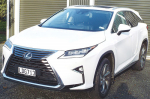 Here's our 2018 car of the year.
Having driven the 2019 Subaru Forester at Queenstown and through the Bendigo Station at the media launch in August, your…
The modern trend to fewer cubic centimetres and more gear ratios continues as car manufacturers chase better fuel economy and…
Kiwis remain fixated on utes of every shape, size and price, but we wonder whether in the rural sector the…
»

Latest Print Issues Online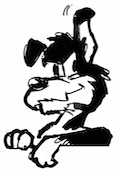 While your old mate is on the topic of Landcorp – or Pamu as it likes to call itself these…
Your canine crusader was amused to hear that the spin doctors at Twitch & Tweet – more commonly known as…
»

Connect with Rural News
A New Zealand Herald columnist, who questioned the retirement of former Fonterra chairman John Wilson in July last year, is…
Former Fonterra chairman John Wilson was farewelled in Hamilton today by family, co-op colleagues, farmers and friends.
A farmgate milk price at the upper end of Fonterra's forecast is now on the cards.
The word ozone conjures up images of big holes in the atmosphere, stronger UV light, the risk of severe sunburn…
Drones may soon be joining the armoury of weapons used to scare birds away from ripening grapes after a trial…
Nicky Hutchinson "never dreamed" of becoming 'The Boss'.