The event was held at Massey Number One dairy farm, a OAD facility adjacent to the Manawatu River near Palmerston North. This farm runs 242 cows on a 120 ha platform and was converted to OAD in 2013. The focus of the farm is to explore sustainability through OAD, to meet the environmental requirements of the Horizons Regional Council and to be a teaching and research resource for students at the University. In every sense of the word it is a model farm and a great example of a successful OAD operation.
About 50 people with small herds attended the day, but most milk twice a day and it was their chance to hear about the pros and cons of OAD from Leo Vollebreght – a well established OAD dairy farmer from South Wairarapa who has been milking OAD since 2006.
He told the group that before switching to OAD it is important to assess their situation carefully and be satisfied that they can make gains and the system is good for their ambitions. He says they need to be aware that production will drop in the first two or three years when they change to OAD and to make sure their cows cope with such a chance.
One of the much touted advantages about milking OAD is lifestyle, but Vollebreght says if people have too much focus on this, it can be a slippery slope.
"It is important to separate lifestyle from good quality management, and so if you want to perform well in any farming system you have got to excel at your trade. Sure, time is flexible, but use it well. Going into OAD is not an excuse for half way retirement," he says.
Vollebreght's talk drew great attention and numerous questions from the group as he outlined his operation and the lessons he has learned over the years.
His day starts at 5am and the cows are milked early in the day. He says is a good time for staff and means that this task is over early leaving time to focus on other chores around the farm.
"Milking takes longer because it takes longer to extract a larger quantity of milk. At the peak we will milk over 20 litres/cow and it takes time to extract that amount of milk. After milking we have breakfast and there is a two hour lunch break and we finish by 5.00pm," he says.
Although milking is done early in the day, Vollebreght says he puts a lot of effort into planning the day and making sure that staff are occupied all the time and not sitting around drinking endless cups of coffee. He says he sticks to the 5.00pm finish, except at peak calving when an extra hour is taken in the evening to check the calves.
One other issue he covered was his culling policy which is different to farmers who milk twice a day.
"For a start we try to limit our replacement rates to 20%. While we are culling less cows because they are empties, we do cull quite a bit heavier on the udders of cows because the udders head south quicker when the cows have to carry the milk for the whole day," he says.
Vollebreght says he has no regrets about moving to OAD and says it's been the right decision.
"It's a right decision because we have continued to perform well and because we still enjoy milking OAD, he says.
DairyNZ consulting officer, Kate Stewart who facilitated the event says she was pleased with the day. DairyNZ helps fund SMASH and Stewart says one of the advantages of having a small herd is that farmers know their cows almost personally. This was certainly the case at No 1 Dairy when some of the cows came over and joined the group in the paddock where further discussions on what makes a good OAD cow were held.
"Farmers like exploring options and seeing what other people are doing on their farms. OAD is another tool in the tool box because dairy farming does come with many challenges. People point to the problems of getting staff and OAD is potentially an answer to this," she says.
Stewart says she has some OAD farmers and also a mix of small herd dairy farmers in her patch which is the southern Manawatu.
She says small herd farmers also say that with fewer cows they can better focus on issues such as sustainability.
Still having second thoughts
One person at the field day says he would never consider OAD – but then Simon Lavery is a bit different to most farmers at the event.
His 5200 cow farm is about 11,000 kilometres away near Johannesburg in South Africa. Orginally from Christchurch, he did his degree at Massey University, then became a DairyNZ Consulting Officer in Northland before taking up a role with the NZ company Farmwise in South Africa.
He then left that company and has established his own farming operation in the republic.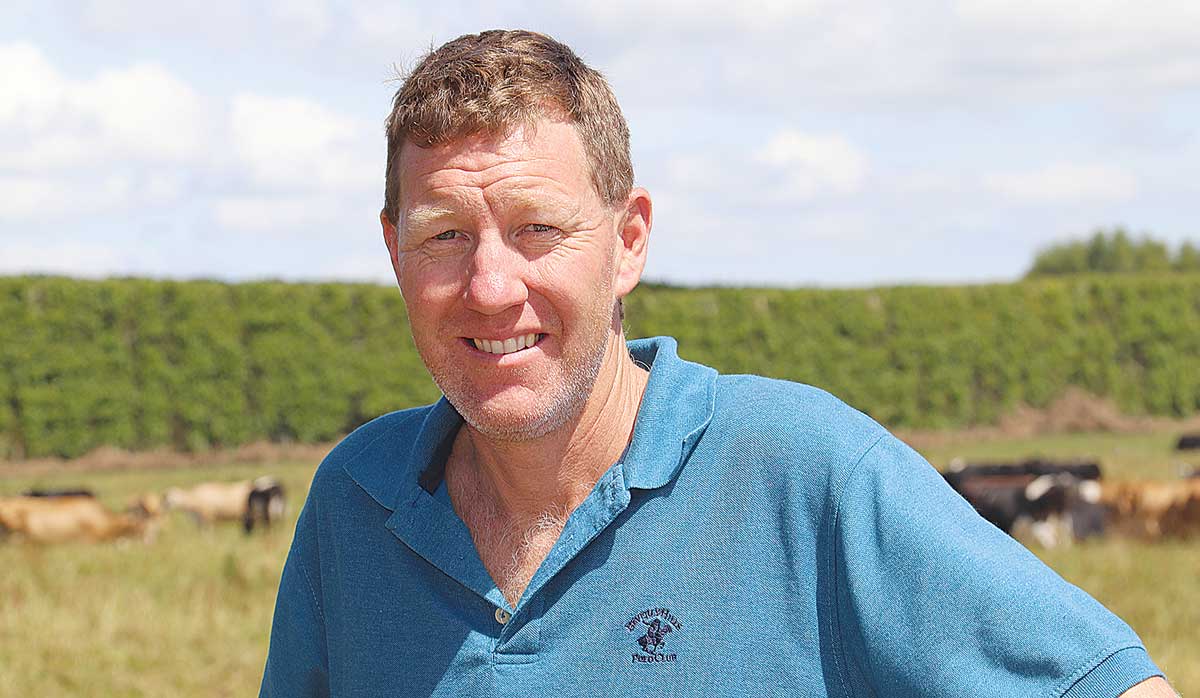 Simon Lavery.
"Our operation is just 20 kms out of Johannesburg so it's one of the closest farms to the city. I have built my farm based on the NZ dairy system so it's very similar.
"The only difference is that we feed more supplement because the price is cheaper there, the milk price is generally good and grass is poorer quality over there so I have a problem there with ME. It's just like a Canterbury irrigated farm with perennial ryegrass. We have five sheds and employ 130 staff," he says.
These days, Lavery lives in NZ and goes to South Africa every three months to make sure everything there is in order. His reason for coming to the SMASH event was, in his words, to see a mate. But he did have a few words to say about OAD. He says farmers in NZ say they are going OAD because of the labour shortage, but he says this is certainly not the case in South Africa. He says he's not convinced about the cost savings with OAD.
"I am not really prepared to take the 10% drop in production. I know some struggle to make more profit but I think it's more the lifestyle choice that drives a lot of these decisions. If I was small herd person maybe I would consider it, but I am not sure it's viable for farmers with low equity levels," he says.
Another issue picked up by Lavery was the idea that many OAD farmers milk early in the morning and he says he's not sure if that suits the cows the best. He pointed out that famers at the SMASH field day stated that cows were resilient and will fit in with what humans want them to.
"If we look at the cows in the middle of the day they will all be lying down, so why not bring them in and milk them at that time. I am a hunter and if I go out in the bush at 5 am all the animals are walking around eating, but they are not walking around at 11 or 12 o'clock because it's too hot and that's when I'd milk them," he says.
Finally Lavery says while OAD has good points, it comes down to economics and whether a farmer converting to this system can take any financial hit. He says dairy farming is challenging and preserving a good equity to debt ratio is critical.
"If you are not in a strong financial situation you may have to continue with TAD. After all the bank is the bank," he says.