Many farmers ask whether they should still feed supplements and how much they can afford to pay for supplements. This article aims to address some of these questions.
Feed input drives milk output
Unless you were wasting a lot of supplement or see opportunities to increase pasture harvest, lower supplementary feed inputs usually will result in less milk in the vat. If you were feeding a lot of costly supplements, it is possible less feed may mean a more profitable system, but remember that if you decrease production, then fixed costs (such as interest) become higher on a per kgMS basis.
Decreasing stocking rate
Many dairy cows have been culled in the past few months. Decreasing stocking rate reduces feed demand. If you had a high comparative stocking rate it may also mean feed inputs are used more efficiently, with more feed energy going into production rather than cow maintenance. This could mean you milk fewer cows but produce the same amount of milk. I am tending to see farmers reducing stocking rate slightly then slashing their supplementary feed budget. A 450kg cow producing 400kgMS needs about 5.3tDM/year. Cull 10 cows and you reduce feed demand by 53tDM/ha/year. If you reduce supplementary feed input by more than 53tDM, you lift your comparative stocking rate and run the risk of more feed energy being used for maintenance, resulting in less milk in the vat.
Milksolids response rates
How much milk you get from a feed, and the value of that milk, determine how much you can afford to pay for supplements.
New Zealand milk production trials have shown an average response to supplements close to 80gMS/kgDM fed, however there is a large range, with much higher and much lower response rates possible depending on a number of factors. The most important factor of this is how much pasture is available to feed cows. Where cows are drastically underfed on pasture, you are likely to see very high milksolids responses to supplements, while responses are likely to be low if there is plenty of grass.
'Facts and Figures for NZ Dairy Farmers' outlines likely milksolids responses based on post-grazing residuals and average pasture cover. See pages 32 - 33 in http://www.dairynz.co.nz/media/210858/Facts-and-Figures-For-New-Zealand-Dairy-Farmers.pdf.
The value of the milk produced from feeding 1kgDM at a $4.25 payout ($3.85 + 40c dividend) and a range of milksolids response rates are shown in Table 1. Note: this is not the amount you can afford to pay for supplement, as other factors such as wastage, additional costs (e.g. power and labour) and your desired profit margin must also be considered.
Finally, think ahead
It is always easy to think you can get away without supplements when the grass is growing in the spring. With predictions of a strong likelihood of El Nino in eastern districts this summer, it makes sense to plan to have some supplement on hand for the late summer and autumn.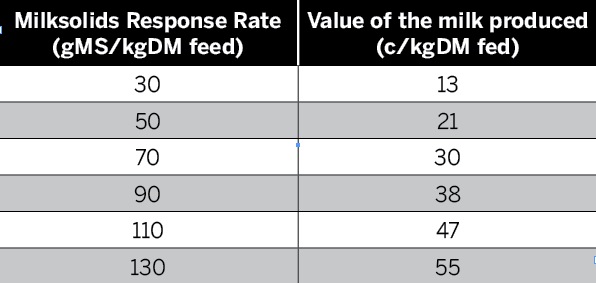 Table 1: Value of the milk produced from feeding 1kgDM at a $4.25 payout ($3.85 + 40c dividend) and a range of milksolids response rates.
• Ian Williams is a Pioneer forage specialist. Contact him at This email address is being protected from spambots. You need JavaScript enabled to view it.